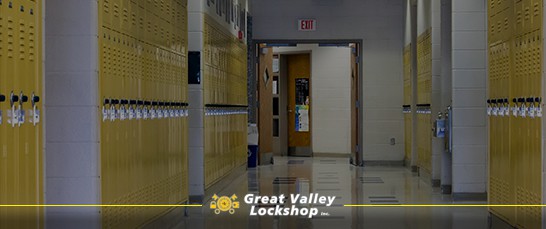 The Problem with Classroom Intruder Locks and Barricade Devices
December 14, 2012 will forever be remembered as one of the most horrific days in U.S. history. It was on this day that a 20-year-old active shooter arrived at Sandy Hook Elementary School in Newtown, Connecticut, forever affecting 26 families in the deadliest mass shooting at a grade school in this country's history.
As we approach the anniversary of the Sandy Hook nightmare, it serves as a sad reminder to elementary, middle and high schools around the country. Years later, school security continues to be a serious concern for parents, students, faculty, and citizens in general. We have learned that, if something like a mass school shooting could occur in Newtown – a city where violent crime was rare, it can happen anywhere. While Sandy Hook is a tragic example, it's hardly the only one. In fact, last year – 2018 – was considered the worst year for school shootings, with 24 separate incidents resulting in death or injury of 114 students.
Is your school building prepared to adequately handle an active shooter situation? It's important to have security systems in place that help prevent a serious threat to campus safety. Though there has been a lot of talk about special classroom security locks and barricade devices, these measures often create other problems. Let's take a look at this issue and some better solutions for school security.
Classroom Intruder Locks & Barricade Devices
Following tragedies, like the shooting at Sandy Hook Elementary, parent groups, and school boards began looking into innovative security hardware. Some classroom lock and barricade devices have been advertised as possible solutions. However, specialized intruder locks have some serious design flaws which should not be overlooked.
"Keeping children safe is the goal of both sides, but opponents of the new security methods being proposed say they violate a number of building codes as well as Federal Accessibility Laws." – Campus Safety, Classroom Barricade Devices: A Dangerous Violation of Federal Laws
Violations of Fire & Safety Codes
According to the National Fire Protection Association (NFPA), retrofitting a classroom door is complex. Many of the devices currently advertised would actually be in violation of fire and life safety codes. According to these codes, classroom doors must always allow:
Safe egress from the room;
Unlocking from outside the room using a key or master lock credential;
Unlocking from the inside without using a key or separate tool and without special knowledge or effort;
Opening from the inside, without griping, turning or twisting, in keeping with ADA standards for accessibility.
Requirements for Add-On Security Devices in an Educational Setting
For safety in emergency situations, the NFPA also reminds schools, that retrofitted locking or barricading devices must:
Not require opening the door for use;
Provide a release mechanism for unlocking at the same height of latch release hardware, like lever handles and panic hardware;
Not affect the factory-made door closer or panic hardware;
Be possible to unlock from inside the classroom even if engaged remotely;
Be in accordance with NFPA 80 when affecting fire doors.
A good general rule of thumb is that any additional security device cannot block or obstruct free egress along the fire exit route. Occupants of a classroom must be able to safely escape in emergency situations and first responders must be able to gain access to care for and protect students.
"Locking means must be capable of being engaged without opening the door so as not to broadcast to persons in the corridor that the door is about to be locked against entry… The locking means is not permitted to modify the door closer or panic hardware, a safeguard conspicuously absent from some of the unproven hardware being touted as a school security solution." – NFPA, Classroom Door Locking Against Unwanted Entry
All staff must be appropriately trained in engaging and releasing the device as part of lockdown and emergency evacuation drills, as outlined by NFPA 101 Life Safety Code®.
Better Security Solutions for Educational Settings
The fire and safety codes are clear, and the requirements for additional locks or barricades to keep intruders out are strict. Most retrofit security products, though they may be advertised for use in schools, do not respect these important restrictions. Yet, the threat to student safety seems to be growing.
So, how can schools increase protection for students, faculty and staff? Let's look at some security solutions that are appropriate for an educational facility.
Video Intercom Entry Systems
In standard school buildings, intercoms are installed in every classroom to allow communication between teachers and the main office, but intercoms can prove valuable beyond this function. Schools are increasingly installing video intercom, buzz-in devices outside of main entrances. – and complementing them with video surveillance equipment. This type of access-request system gives administrators and staff time to verify the identity of guests and deny entry to any unauthorized person. Security measures such as this help school staff prevent potential danger before it even enters the door.
Electronic Access Control
In recent years, schools are adopting more advanced security measures. Electronic access control systems make lockdown procedures faster and easier to implement in the event of an emergency. These systems are custom-designed for each particular building. They can be programmed and controlled remotely from any authorized device with internet or Bluetooth access. School faculty can instantly limit or permit access to certain parts of the building on command. Access control systems can also be programmed to limit building access to non-students during peak drop-off and pick-up times to help streamline security responsibilities for staff.
Learn more about Access Control Systems for School Buildings and how Facial Recognition Technology is Improving Campus Security.
Bullet-Resistant Protection
Additional security equipment which does not infringe on safety or handicap accessible codes is available for schools. For example, bulletproof doors were recently installed on classrooms at a pre-K – grade 8 school building in New Jersey. Other schools are turning to bulletproof glass to help protect students in case of gunfire and inside active shooter threats. Some are undertaking bullet-resistant entryway renovations, adding protective window shades or films, or following the development of deployable bulletproof curtains.
Lockdown Drills
In order to safeguard child occupants, school staff members should regularly review training for lockdowns and active shooter threats. Lockdown procedures should be defined for each campus building and should clearly outline each staff members' responsibilities. The goals of regular drills are to:
Define the role and tasks for each staff member;
Outline the lockdown protocol for students;
Give school staff the chance to use locking devices in a realistic setting;
Build confidence of everyone on the school campus in implementing lockdown procedures.
University & School Security Guidebook
Review this clear guide of basic information for school security. It addresses the need for tighter security measures and how that can be achieved with better locks and controlled entry systems. Our handy guidebook also has helpful tips and practical security measures for universities and schools. It highlights relevant building and fire safety codes for educational facilities and classrooms.
University Locksmith Services
When it comes to the safety of hundreds of children, you can never be too careful. And preventative action is key. The professionals at Great Valley Lockshop have years of experience quickly, affordably, and correctly installing advanced security measures in school buildings. For more information on GV Lock's campus solution or for a security evaluation and consultation, contact us by calling 610-644-5334 or get a free quote online.