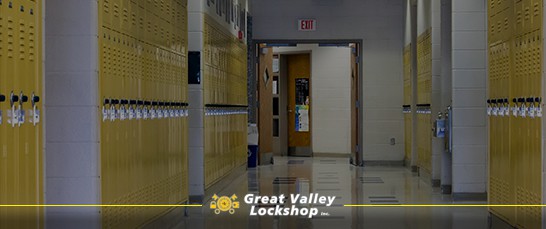 Dangers of Classroom Intruder Locks & Barricade Devices
Just two months ago another school shooting shocked the nation. This time it was a 15-year-old high school student who shot 11 people, killing three students and critically injuring the others.
Unfortunately, an active shooter situation is now something that school faculty and students now have to prepare for. And the students at Oxford High School in Michigan acted in accordance with the emergency drills and barricaded themselves in the classrooms. But were they doing the right thing?
Since the shooting at Sandy Hook Elementary, parent groups, and school boards began looking into innovative security hardware. Some classroom lock and barricade devices have been advertised as possible solutions. However, specialized intruder locks present some serious safety concerns which should not be overlooked.
5 Reasons Schools Should Avoid Classroom Barricade Devices
There are serious concerns about barricade devices, which can trap building occupants while also delaying or preventing emergency responders from entering. According to the Partner Alliance for Safer Schools (PASS), there are five main reasons why barricading the doors within an educational building could be dangerous:
The devices can prevent, or at the very least complicate and delay, both escape from inside the room and emergency response from the outside.
Most barricade devices violate life safety code requirements for free egress and violate accessibility requirements under the Americans with Disabilities Act (ADA), rendering use of the device a violation of federal law.
Classroom security locks are already effective lockdown measures while keeping students and school personnel safe.
Existing locksets and door hardware can be upgraded (if necessary) for better security at the same cost as purchasing new barricade devices.
For the above listed reasons, utilizing barricade devices in a school setting could present increased liability for administrators.
Real-Life Example of the Dangers of Barricades in Active Shooter Emergencies
A gunman entered the Congregation Beth Israel Synagogue in Colleyville, Texas, just over a week ago. Four people were held hostage for more than 10 hours. But, it's important to note how they escaped because it shows why it's critical to keep all options open – including the ability to exit – in this type of situation.
"First of all, we escaped. We weren't released or freed," said Jeffrey R. Cohen, one of the hostages. The men held captive worked together to engage and talk to the gunman for the long ordeal. When the gunman ordered the hostages to get on their knees, Rabbi Charlie Cytron-Walker told the others to run. "The exit wasn't too far away," explained the rabbi. "I told them to go. I threw a chair at the gunman, and I headed for the door. And all three of us were able to get out without even a shot being fired."
Would the outcome have been different if the hostages had been unable to leave freely? What if the intruder had blocked the exit?
Why Classroom Barricade Devices Are Considered Ineffective
In addition to the five reasons above, we must consider how barricade devices could be used to do more harm.
If the device is accessible to all, then someone with malicious intent could barricade his/herself inside the classroom in order to take hostages or commit violence.
Hiding or locking the barricade device to limit who has access to it, would create an extra barrier to use in case of an emergency. For example, not every staff member may know where the device is kept or how to unlock it.
Door blocking devices are designed to prevent access from the outside, meaning that even a staff member or emergency responder with a key would be unable to enter.
"Keeping children safe is the goal of both sides, but opponents of the new security methods being proposed say they violate a number of building codes as well as Federal Accessibility Laws." – Campus Safety, Classroom Barricade Devices: A Dangerous Violation of Federal Laws
Barricading Doors Can Violate School Fire & Safety Codes
According to the National Fire Protection Association (NFPA), retrofitting a classroom door is complex. Many of the devices currently advertised would actually be in violation of fire and life safety codes. According to these code considerations, classroom doors must always allow:
Safe egress from the room;
Unlocking from outside the room using a key or master lock credential;
Unlocking from the inside without using a key or separate tool and without special knowledge or effort;
Opening from the inside, without griping, turning or twisting, in keeping with ADA standards for accessibility.
The door should be lockable from inside the classroom without requiring the door to be opened.
Door hardware operable parts should be located between 34 and 48 inches above the floor.
The bottom 10 inches of the "push" side of the door surface should be smooth.
If the school building does not have an automatic fire sprinkler system, the classroom door and door hardware may be required to be fire-rated, and the door should be self-closing and self-latching.
If the door is required to be fire-rated, the door should not be modified in a way that invalidates the required fire-rating of the door and/or door hardware.
Requirements for Add-On Security Devices in an Educational Setting
For safety in emergency situations, the NFPA also reminds schools, that retrofitted locking or barricading devices must:
Not require opening the door for use;
Provide a release mechanism for unlocking at the same height of latch release hardware, like lever handles and panic hardware;
Not affect the factory-made door closer or panic hardware;
Be possible to unlock from inside the classroom even if engaged remotely;
Be in accordance with NFPA 80 when affecting fire doors.
A good general rule of thumb is that any additional security device cannot block or obstruct free egress along the fire exit route. Occupants of a classroom must be able to safely escape in emergency situations and first responders must be able to gain access to care for and protect students.
"Locking means must be capable of being engaged without opening the door so as not to broadcast to persons in the corridor that the door is about to be locked against entry… The locking means is not permitted to modify the door closer or panic hardware, a safeguard conspicuously absent from some of the unproven hardware being touted as a school security solution." – NFPA, Classroom Door Locking Against Unwanted Entry
All staff must be appropriately trained in engaging and releasing the device as part of lockdown and emergency evacuation drills, as outlined by NFPA 101 Life Safety Code®.
Related article: How Schools Can Improve Safety & Security Simultaneously.
PASS Guidebook on Classroom Barricade Devices
Educational Institutions Require Professional Locksmith Services
You can never be too cautious when it comes to the safety of hundreds of children. And prevention is essential. Great Valley Lockshop has over 30 years of experience helping colleges and universities make their campuses safer for students.