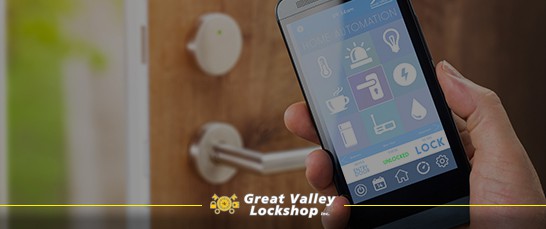 What to Consider When Buying a Smart Lock
The smart home revolution is changing the way residents in Pennsylvania, and around the country, think about security. Today, the front door isn't an entry point, but it's part of how the house functions.
Homeowners are using smart home automation to program appliances and operate them remotely. In essence, the house can work for you, not the other way around. For example, smart thermostats, lighting systems, household appliances, and residential security networks can be synced and set to make your life easier and save energy. Now, smart locks are a fully integrated component of this technology.
For someone looking to install a smart lock at their residence, however, it may be a dizzying challenge. There are a lot of options on the market and it's not always clear if they are the right solution. So, here are some factors to consider when trying to find the best smart lock for you.
Advantages of Smart Locks
Imagine eliminating the need to fumble with keys when you have your hands full or are carrying groceries into the house. No more searching for misplaced keys or reaching into the bottom of your purse. Using smart locks, you don't need to worry about making copies of keys or having them get stolen or lost.
Smart lock devices are managed remotely using an app accessed from an internet browser or smartphone. Homeowners can unlock to door for a family member who's been locked out or guests. They can send temporary access permission for home cleaning or package delivery. Security notifications let owners know when there may be an issue at the house. And all of this can be managed from the couch, the office, during your commute, or while on vacation.
Find out more about the Difference Between Smart Locks and Electronic Locks.
Factors to Consider When Purchasing a Smart Lock
When purchasing a smart lock, consider how it should work with existing hardware, the preferred type of network connection, and control method.
Replacing or Retrofitting Current Hardware
If the hardware on your door is fairly new or of particularly high quality, you may not be ready to replace it completely. Some manufacturers offer smart lock conversion kits to retrofit existing locks. Kwikset Kevo Convert and August Smart Lock Connection Bundle are both reputable conversion kits. Sesame by Candy House is another product that is particularly easy for DIY installation over your deadbolt latch. All three options make it possible to turn your current lock or deadbolt into keyless entry devices.
If you have doubts about the quality and security level of your hardware, consider replacing it entirely. Smart lock kits, like those by Latch, Gate, and the Kevo lock by Kwikset, can be installed in place of other lock mechanisms.
Network Connection
There are three main types of networks that allow you to connect to and manage a smart lock. These options are Bluetooth, Z-Wave, and Wi-Fi. Network connectivity enables the lock device to be programmed remotely, work in sync with other smart home devices – like smart doorbell cameras – and be controlled by an app.
Wi-Fi
Most keyless lock and deadbolt models now available are controlled using either Bluetooth or Z-Wave signals. The signals are sent from a hub that also connects to the internet, allowing your phone or computer to connect with the hub. One prominent exception to this setup is the Schlage Encode™ Smart WiFi Deadbolt. This device can connect directly to a Wi-Fi connection. It skips the need for a hub and links your smart lock directly to the home automation app and the other connected devices.
Bluetooth
Bluetooth effectively connects short-range devices through low bandwidth to enable data sharing. Bluetooth devices connect directly to smartphones and tablets and consume less battery power than other options. The one key disadvantage is that the Bluetooth range is limited. The Bluetooth signal should be strong enough to lock or unlock the door from inside your home, from the driveway and the walkway. For example, when the traditional Kevo Bluetooth device senses a connected phone in range, it can be locked or unlocked by simply touching it on the door's exterior.
However, if you plan to monitor traffic and control the lock remotely, or with voice control, Bluetooth locks will need an extra device for Wi-Fi connection.
Currently, the highest-selling smart lock by August uses Bluetooth technology to automatically unlock your door when your phone comes within range and lock it when you leave. Using the separate Connect Wi-Fi Bridge, this smart lock model also works with a wide range of connected home and voice command hubs. This includes Nest, Alexa, Home Assistant, and Wink.
Z-Wave
This wireless technology was designed to avoid interference with Wi-Fi signals. It's encrypted for higher security and requires less energy to run devices. In order to connect with a smartphone or other device, Z-Wave locks require a Wi-Fi compatible hub. Often it is the Z-Wave hub's app interface that controls the lock and other connected devices. Notably, Schlage and Kwikset brands have a selection of Z-Wave smart locks for keyless entry.
Mode of Control
Don't discount this factor. There is more than one way that a keyless lock system can be managed. All models should allow for keyed entry as a backup. Many will still work with your existing key. In addition, there are mobile apps, physical touch, and keypads, as well as voice control.
Mobile App
As explained above, many smart locks work remotely with Android and iOS smartphone apps. Through the app for that particular lock brand, hub device, or home automation system, homeowners can manage settings. Other features may include programming entry permissions and access times, managing multiple locks or properties, security notifications, and viewing traffic records. For example, property owners may use the same app to control their main smart lock and garage smart lock, for multiple apartments in a complex, or for home and work.
Touch
In addition to the app, Kevo Bluetooth models have a "touch to open" feature. This allows anyone with entry permission and a connected smartphone in range to lock or unlock the door by tapping on the exterior plate of the deadbolt. For homeowners, this conveniently lets them open the front door while their phone remains in the car in the driveway.
Keypad
Some smart locks provide a touchscreen or traditional keypad for keyless entry. These include Assure locks by Yale, Kwikset Premis, Schlage Encode™ Smart WiFi Deadbolt, and the Schlage Sense™ Smart Deadbolt. The August brand, for example, sells a separate Smart Keypad for homeowners and guests to use keyless entry without the need for a mobile device.
Voice
Voice search and voice-operated devices are a huge tech trend. If you are already using Apple HomeKit, Siri, Amazon Alexa, Nest, or Google Assistant, it makes perfect sense to look for a smart lock that is compatible with that system.
Read about the Security Failure which Affected One Popular Smart Lock.
GV Lock Is Here to Help
Our company takes pride in staying up to date on the latest security technology available. If you have additional questions about installation or setup, call Great Valley Lockshop at (610) 644-5334 and let us know how we can help.