Key Fobs 101: What You Need to Know About this Emerging Trend
You already know the main purpose of a standard key. Simply put, it allows you to lock and unlock the likes of your car, home or business. There's not a whole lot of mystery to it – the key goes in the lock, the lock turns and voila, you have access to your home, office, car, etc.
But what you may not know about is an emerging trend – and an alternative to the standard lock and key – in lock-unlock technology known as a "key fob," a device that is most commonly used when extra security is desired to access a certain venue. What is a key fob? Specifically, key fobs are pocket-sized security tokens with built-in authentication installed in the unit that either grant or deny access to a particular facility or area of the facility. You probably drive a car right now where you're able to remotely lock and unlock its doors. Key fobs are somewhat like this – except a lot more advanced. And because of these enhanced security features, key fobs are becoming more and more popular, not just for personal homes and automobiles, but in the office and commercial environment as well.
Key Fob Systems: The Benefits
As we already noted, the big benefit of going the key fob route over the traditional lock and key system are the enhanced security features that it offers. For example, the lock and key system makes it easy for thieves to gain access to a particular venue, as all they'll really need to do is get their hands on the proper key to access it or head down to their local locksmith, pay a few bucks, and have a replacement made within minutes for their own convenience.
Key fobs are much more secure. In fact, it's almost like having a surveillance camera on your key chain. That's because each fob key that is issued is typically issued with a personal identification number, which users will have to enter on the fob itself before they're granted access to a building or area of the building. Some key fobs are so advanced that they may also change access codes periodically to the area being secured, thereby making it infinitely more difficult for someone to memorize them and gain illicit access. What's more is that if, for whatever the reason, one were to lose a key fob or have it stolen, the individual would have a very difficult time using it to access the areas that it safeguards, considering the relative ease that it would be to do so with a standard lock and key. And a final benefit is that they work fast – there's no delay in receiving access to a particular area.
For these reasons, key fobs have become popular at certain commercial facilities, such as research and development labs, industrial sites, product development facilities, rooms with computer servers and other confidential commercial sites that people want to prevent just any old average Joe from stumbling into. They're also becoming more and more popular in high-end residential neighborhoods, both to gain access to gated communities as well as homes.
Aside from helping to protect commercial and residential buildings, drivers are also experiencing the benefits of key fobs, as they're helping to make vehicles more secure too. For example, it's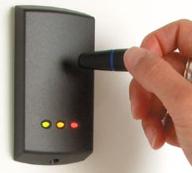 much more difficult to hot wire a vehicle that operates on keyless ignition. This is because, in many cases, the car isn't programmed to start if it doesn't receive the proper coding from the transmitter fob that it is electronically programmed to. Some automotive key fobs are even more advanced, and will automatically disengage the ignition if it detects someone is attempting to start the vehicle without the fob. Depending on your auto insurance provider, this additional security feature can also lead to a reduction in auto insurance premiums.
Key Fob Replacement
Despite their enhanced security benefits, key fobs aren't for everyone. And perhaps the biggest drawback of going the key fob route over the traditional lock and key route is cost – key fobs and key fob hardware is much more expensive than lock and keys. Obviously, expense all depends on the venue and the magnitude of the task at hand, but it's not uncommon for key fob installation in a large commercial facility to run into the tens of thousands of dollars. Yes, it's much more expensive than the lock and key system, but often times the extra security of a facility and its confidential products, information, etc., is more than enough to outweigh the cost of up-front investment.
Another potential roadblock to going to the key fob route is the question on the cost of replacement fobs. This too is much more expensive than having a standard key replaced. A big part of this is because fobs need to be programmed, they can't just be duplicated. In fact, for drivers who are having an automotive key fob replaced, it's not uncommon for the mechanic or dealership to charge them an additional half-hour to hour of labor for the job, in addition to the price of the part itself.
Additionally, like anything these days, key fobs have a lifetime and will eventually need to be replaced or reprogrammed to ensure efficient working. It's important to remember that while key fobs work in a different way than traditional keys, they're still keys – so they're still taking abuse in your pocket, purse, etc.
As you can see, key fobs are a modern-day technology that have a variety of benefits over the traditional lock and key systems. But while they are picking up steam as the hot new trend in security, they're also not for everyone and every facility. For more information on key fobs, the key fob installation process and key fob hardware – as well as whether or not this technology would be right for your home, vehicle or business – contact our experienced locksmiths today. We have years of experience in providing key fob installation to Chester County and beyond.
Give us a call at (610) 644-5334 or send an email to [email protected].
Social Share