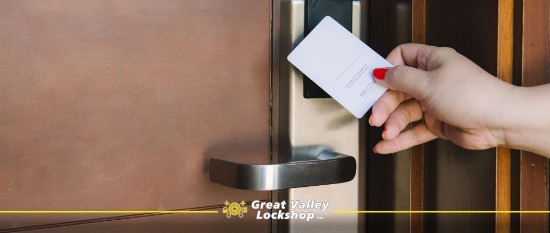 How to Choose a Hotel Door Lock: Guide for Hotel Owners
Imagine arriving at your hotel room, excited for your upcoming adventure, and with a simple swipe or tap, you effortlessly step into your haven away from home. It's more than just a door – it's your entry to comfort and tranquility. That's the power of a modern hotel door lock system, where security meets simplicity to redefine your hotel experience.
Let's explore the technology and innovation behind commercial hotel door locks that make every guest's journey a safe and delightful one.
Hotel Door & Lock Regulations
Thanks to iDigHardware and Allegion for clarification on the following building and safety codes that apply to hospitality industry.
Exterior Entrances

 – In most cases, all doors that are part of a method of egress must unlatch in a single motion. These doors must also be operable from the egress side without the need of a key, tool, special expertise, or effort, and without the use of a tight grip, pinching, or wrist twisting. The height of the releasing hardware must be between 34 and 48 inches above the floor (or as required by the state or local jurisdiction).

Learn more about ADA and

accessibility requirements for commercial spaces

.

 

Conference and Assembly Areas

– Unless it is panic hardware, doors serving assembly occupancies with a maximum occupancy of 50 people or more may cannot have a lock or latch (or fire exit hardware if the door is fire rated). All doorways in the egress path that go from the assembly space to a public area must have panic hardware installed.

Learn more about occupancy and emergency exit regulations.

 

Swimming Pools, Spas & Hot Tubs

 – Many hotel pool enclosures require panic devices on evacuation doors, depending on the occupant load. Usually, they must also be designed to restrict entry and prevent unsupervised children from entering the pool. On the access side, this necessitates self-closing, self-latching, and automatically locking doors and gates, or access hardware mounted 54 inches above the floor or ground.

Learn more about pool gates and door lock requirements.

 

Stairwell Doors

 – Stairwell doors must, in most situations, be fire door assemblies. This means they must close and latch automatically to safeguard the means of escape. If stairwell doors can be locked on the stair side to prevent entry from one floor to another, the doors must unlock automatically if a fire starts, to allow building inhabitants to leave any level if it becomes compromised by flames and smoke. 

Learn more about self-closing doors.

 

Guest Rooms

 – Hotel room doors must reliably close and lock. On doors for units with an occupancy load of 10 people or less, most states allow the use of a deadbolt or swing bar devices in addition to the door lock, as long as the security mechanism doesn't require a key or tool to unlock it from the egress side. Interior hotel guest rooms from the hallway must have a 20-minute fire rating, meaning they must be built and tested to prevent smoke and flames from spreading for at least 20 minutes.

Learn more about commercial door safety standards.

 

Communicating Doors

 – Communicating doors is often used when two hotel rooms are connected. This is actually two doors, in the same frame, which open in opposite directions. The assembly must be fire-rated to slow the spread of fire between rooms. Because adjoining rooms may be used by the same party, communicating doors are exceptions to fire door requirements to be self-closing or automatically closing. 

Learn more about fire-rated doors.

 

Service Rooms and Areas

 – Building and safety laws also require that doors connecting rooms and passageways be compliant. They are often required to meet fire door or emergency exit door classification. Remember to keep the egress path clear of clutter and obstructions so that the exit route can be used in the event of an emergency.

 

Inspections and Maintenance

 – Most US states' fire regulations mandate that fire door assemblies be maintained in compliance with NFPA 80. The building owner or property manager is responsible for ensuring that all fire door assemblies are in code-compliant condition; any damaged components or inadequacies must be remedied as soon as possible.

 
How to Pick A Hotel Door Lock
To ensure the protection of hotel property, staff, and guests, investing in high-security solutions is a smart decision. Access control is a valuable investment considering that the system must manage both high-traffic entrances and individual guest rooms, as well as staff and restricted- access areas.
For years, traditional keys have been replaced by magnetic key cards. This isn't news to anyone in the hospitality industry. But there are some new door lock options for hotels these days, which are designed to make hotel management smoother and improve guest privacy.
Types of Hotel Door Locks
Find out more about the options available for hotel door locking systems. All of these types of locks automatically lock when the door closes, whether the customer is entering or leaving the room or other entryway. With each of these options, it's recommended to provide auxiliary deadbolt locks or security latches on the interior of hotel room doors that guests can deploy for additional security.
Keyless
In recent years, many hoteliers have been making the switch to mobile key solutions. Going keyless means streamlining check-in and check-out operations for both hotel guests and staff. By providing quick and secure access to private rooms and select areas, like the spa, pool, gym, parking garage, and conference rooms, it enhances the guest experience.
These locks work with keyless access readers that verify access credentials through a specially programmed mobile app with a Bluetooth connection. A digital key is generated by the smartphone app allowing the guest to open the doors they have access to; then, when the guest checks out, their access permissions are canceled. It's even possible to setup self-check-in/check-out and contact-free payment processes for clientele. This provides a wide range of advantages for small and large businesses looking to better handle late guest arrivals and early departures.
Watch this video to see how smart door locks can help hotel owners and managers run their business more efficiently.
Mobile lock apps can be integrated into existing lodging and resort structures and access systems and still allow guests to use keycards as an alternative. For owners considering the option of keyless hotel door lock technology, it's important to find a product that is compatible with a wide range of mobile devices and the access devices already installed around the property. Staff should be trained to explain the system to hotel guests and use the mobile app technology in order to offer helpful assistance if guests encounter a technical problem.
Many big names in the hospitality business are adopting digital keys as part of their loyalty programs, including Hilton, MGM Resorts, and Disney hotels. Marriott International, for example, plans to expand the use of mobile keys to all of its 7,000 establishments by the end of this year.
Related article: Are Your Valuables Secure in a Hotel Safe?
Integrated Circuit (IC) Cards
This security lock for hotel door operates using plastic cards that have and integrated circuit chip. These are arguably the most common type of hotel door lock for small to mid-size lodging and resorts.
This type of card is about the size of a credit card and can be easily slipped away into a wallet, purse, or pocket. By inserting the card into a small slit in the door lock, guests can gain entry to the room and other guest areas. Then, when guests check out, cards are replaced and the access permissions reprogrammed for the next registered guest.
Magnetic Stripe Cards
This hotel lock option looks and works similarly to the IC cards, but the reader detects the digital key via a magnetic strip on the card.
RFID Cards
Another popular lock option is radio-frequency identification cards, also known as proximity access cards. These contain integrated antenna components, which communicate with the door lock via radio waves to allow access. Essentially, instead of inserting the card into the door, as you would with an IC Card, RFID Cards just need to be near a door to unlock it.
Swing Bar Door Guards
Swing bar door guards are often installed on individual guest room doors to provide an extra level of security when the door is closed and locked. Plus, this type of hardware allows guests to answer the door and open it a few inches while maintaining security.
Though some hotel owners may have heard that these devices are not allowed by fire and life safety codes, they are ok to use within NFPA 80 standards. When used correctly, swing bar door guards do not prevent fire doors from closing as required.
"The NFPA 80 Handbook includes specific examples of the auxiliary items that should not be installed: kick-down door stops, wedges/chocks (e.g., wood, rubber, and other materials), hold-open door closer arms, friction and manually operated door holders, chains, ropes, or other items that interfere with the operation of the door," explains Lori Greene from Allegion.
Related article: Powerful Ways to Upgrade Your Commercial Security.
Commercial Security Solutions for Hospitality
For more information on the best lock options for your hotel setting, and the supply, installation, and maintenance for locks and access systems, contact Great Valley Lockshop. Call our office at 610-644-5334 or request a free quote.