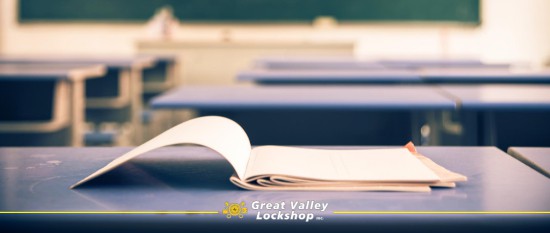 Technology is Taking on the Challenge of School Safety
Galaxy Next Generation announced today that they are partnering with HavenLock Inc. in order to develop new and innovative products for school security. The partnership will combine Galaxy's expertise in interactive learning apps and other school technology with HavenLock's patented residential and commercial access management technology. The goal is to develop and produce new security products for schools and universities that can address the extreme safety issues threatening students and faculty today.  
Galaxy's strategy for expanding into the field of school safety and security was originally revealed in January of this year with the release of Visual Alerts, an award-winning platform for sending mass notifications. One of its intended uses is to notify students and teachers on and off campus when there is a security threat or lockdown. The alerts are broadcast instantly on the screen of a single device or all connected devices and mobile phones anywhere. 
Haven recently developed commercial hardware with wirelessly controlled locking mechanisms to protect students and faculty in the classroom and on campus. With this new partnership, Galaxy will be able to increase its security product offering by distributing Haven's bluetooth door lock to educational institutions in the United States as a result of their cooperation with Haven. 
The Haven company has been developing innovative door locks since 2014. When engineers discovered that their technology might be utilized to improve school safety, they began developing specialized barricade and lockdown devices. The main goal was to help protect students and teachers in the classroom by giving teachers and administrators an easy and cost-effective way to lock down a secure room instantly. 
Synchronized, Remote-Controlled School Lockdown Devices
The Lockdown Pro HQ is 10 times stronger than a conventional deadbolt and is simple to install to existing doors in an educational setting. This locking device makes it nearly impossible to force entry into a classroom. It's built by veterans and constructed from military-grade components: stamped steel, industrial composites, and triple-stitched nylon webbing.  
 In an emergency situation, seconds and minutes are vital. By implementing new technologies, Galaxy and Haven aim to give administrators and first responders the ability to pinpoint a security threat and react quickly. As the first line of defense, Haven Lockdown Pro integrates the locking devices together and can be activated with the touch of a button. Administrators can touch one button and lockdown the entire school or campus to deter an active threat. Each lock sends a signal back to the dashboard to locate the active threat.   
"The concern about school safety and the security of our students continues to be a leading issue in the U.S. and school budgets related to improving safety have been increasing dramatically. Galaxy will continue to focus on serving our customers' needs and priority has been given to keeping our kids safe." –Magen McGahee, Galaxy's Chief Finance Officer 
By combining forces, the two tech companies will help more schools and universities increase the level of security on campus. Galaxy's relationship with educational facilities will have the opportunity to be early adopters of Haven's commercial hardware. 
Commercial Security Services for Universities
GV Lock specialized in serving schools and colleges. Our commercial security services include designing, installing, and repairing access control systems. Contact us for an estimate for custom security solutions.