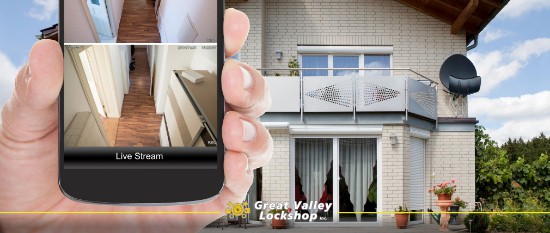 Lock up Tight with This Year's Top Security Gadgets
Get this year's seven best high-tech add-ons for tight home security.
Top 7 Home Security Gadgets in 2021
HAVEN Smart Lock Device
This smart lock is an easy add on for any door that homeowners can install on their own. There is no need to change your existing door or locks. You can easily install the device on the bottom of the door and operate the smart lock using the mobile application and remote control.
Wyze Home Monitoring
The Wyze lock is an inexpensive smart lock option, currently priced at about $90. It can be used with your smart home system without changing the exterior hardware on your door or rekeying the lock. Once the app is connected to your home network, it uses geofencing to sense when you have left or arrived home. Then, it automatically locks and unlocks the door for you.
The smart lock is part of the Wyze Home Monitoring system. It includes motion sensors, security cameras, and sensors that detect if windows and doors are opened by an intruder. It's easy for homeowners to setup and manage their home security system while not spending thousands.
Ecobee SmartCamera
The smart home system by Ecobee is a seamless security and monitoring network that works automatically and without annoying alarms. The indoor security camera records video history, integrates with Alexa, and has a remote two-way talk function. It allows homeowners to zoom in and pan the inside of their house, even in the dark. It also has motion detector alerts for increased safety.
Xiaomi Smart Safe
This innovative steel safe is designed for residential use. It can easily be mounted anywhere in your house and is extremely easy to use with a fingerprint lock and unlocking feature. The electronic locking mechanism is battery-powered and can be connected to the Xiaomi Home app via Bluetooth for password unlocking. Plus, it has a traditional key backup.
Eufy Security Smart Lock Touch
This new residential hardware product recently launched in Australia and is expected to hit the US market soon. It an integrated biometric entry system. The small touchscreen on the exterior side of the door uses fingerprint identification to limit access only to those with permission to enter. Dedicated sensors lock the door automatically when you leave the house. Then, it unlocks the door in 1 second, so there is no need to wait out in the cold or search for your key.
This keyless solution is built to withstand weather and extreme temperatures; plus the hardware boasts BHMA grade 2 quality and protection. Fingerprint data is stored locally and encrypted to safeguard your family's privacy.
Ring Exterior Alarm Retrofit Kit
Ring has a whole line of DIY home security products. This alarm is alerts people in and outside of the house in case of an emergency or break-in attempt with an audible alarm and visible blinking LED lights.
SensorsCall CareAlert Monitor
This gadget provides a different kind of security. It is a simple plug-in device that looks like a nightlight for seniors living alone. The CareAlert monitor provides loved ones peace of mind, but doesn't hinder privacy, as there are no cameras included or wearable trackers. Taking advantage of AI, it learns the usual routine of the person living alone and alerts caregivers of any unusual activity. The device also monitors air quality, humidity, and light in the home, data which is available through its app.
Smart Homeowners Invest in Smart Home Security
You and your family can benefit from the convince and increased security that smart technology offers. For more information on smart locks, and other advanced security solutions for commercial and residential buildings, call Great Valley Lockshop or get a free quote using the online form below.