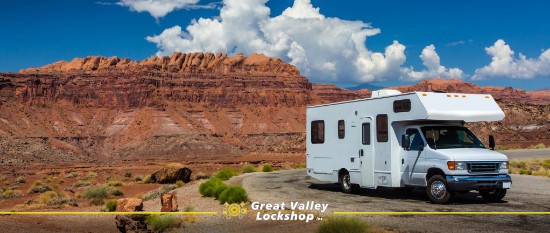 Lock and Roll: Door Locks and Keys for Motorhome Security
Camping in a motorhome is a great way to leave your worries behind and enjoy the great outdoors without sleeping on the hard ground and being disturbed by the bugs and wildlife. Recreational vehicles, including travel trailers and motorhomes, can make an outing so much more comfortable and enjoyable, until you run into trouble with your door locks or keys.
Keys get lost and locks get broken, but motorhome locks have some unique issues that could have you searching for the nearest locksmith. Before you hit the road this summer, be sure that your motorhome is secure.
Motorhome Compartment Keys Aren't Unique
There's nothing like hitting the open road for a weekend, or extended, camping trip in your motorhome. Whether you're an occasional camper or travel full-time in your home on wheels, you want to keep your motorhome and belongings safe. Yet many motorhome owners are surprised to know that compartment locks can be opened with the infamous CH751 key.
It's a key that is mass-produced and easy to find at any regular hardware store. As many as 60% of all storage compartments found in today's RVs have the same CH751 locks and key sets. This means other RV owners and thieves can use the exact same key to gain easy access to your compartments. They won't have to bother breaking in, they can use the same key that opens thousands of other motorhomes' compartments.
Many RV manufacturers use the same locks on the storage bin compartments to make it easier for salespeople to show potential customers several different models without having to carry around a bulky ring of keys. Some manufacturers use common tumbler locks on entry doors, as well which is why you should always lock the camper with an additional deadbolt.
Upgrade the Compartment Locks on Your RV
Check your keys and, if you find CH751 engraved on the key, it's important to change the locks with uniquely keyed locks right away.
Storage bay compartments are typically manufactured to use a tumbler cam lock. If you're ordering new locks to install yourself, you'll need to measure the cam size to get a good fit. Standard tubular lock sizes are 5/8", 7/8", 1 1/8" and 1 1/2″. You'll also have to measure the locking arms, which come in a wide variety of sizes that range between 5/8" all the way to 2 1/8".
Some locks will have an offset cam that you will also have to measure. If you opt to have them professionally replaced, then your locksmith will take care of the measurements. Even if your locks aren't keyed with the CH751, standard manufacturer storage bay locks are often cheap and easily broken into, so you should consider high-quality replacements either way.
Watch this video for an easy DIY guide to motorhome entry door lock replacement and installation.
High-Security Motorhome Door Lock Options
To ensure that not just anyone can walk up to your trailer or motorhome and unlock the storage bay compartments or the front door, you need to replace all the tumbler locks. There are many options on the market for traditional keyed locks with a non-mastered cylinder. Each is sold with an individual serial number and key code. This means that there is no master key available for sale, and copies can only be sold or made for the person in possession of the serial number.
There are also great smart lock options which utilized unique entry codes with a keypad to be installed on the door, and key fobs for keyless entry. These are easy to install, even as a do-it-yourself project, and provide an extra level of security. RV owners love the convenience of electronic locks because they can re-enter without using a key, by simply typing in the access code. This makes traveling with family and friends easier to manage and decreases the fear of misplacing keys.
Great Valley Lock Shop
For more practical security recommendations, call Great Valley Lock Shop at 610-644-5334 or request an estimate today. We serve Chester, Delaware and Montgomery counties in Pennsylvania.