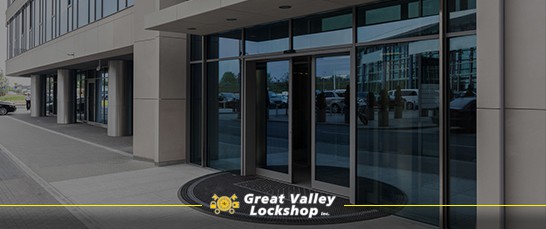 Three Types of Keyless Locks for Your Business
The advantages of keyless locks speak for themselves. For businesses, going keyless means simplifying everyday activities at the office, increasing security and getting rid of a few headaches.
The convenience of remote lock operations, keyless entry and real-time traffic reporting are some of the main reasons why many companies are adopting this technology. Plus, business owners no longer need to worry about making copies of keys, or having them misplaced, lost or stolen.
But you may be wondering what type of keyless lock is right for your commercial property. Here is a simple overview of the different options currently available on the market. We've also provided some factors to consider when you're ready to make the switch to keyless.
Electronic Keyless Locks
This type requires either a hard-wire electrical connection or a battery for the locking mechanism to function. It's a versatile keyless option for keyless access control systems on a wide range of office and commercial buildings. Electronic locks can be programmed to grant access using a security code typed into a keypad, a set of key fobs, or access cards.
Electronic locks can be easily be integrated into a business' automation or security system. Plus, they can give business owners to power to check incoming traffic in real time and customize security settings to fit their business. At any time, the access system can be programmed to deny entry to all or some individuals who may try to enter the building. Entry to restricted areas or high-security buildings can be limited to specific individuals. And it's possible to limit entry to specific hours and days of the week as needed.
Learn more about The Business Benefits of Electronic Access Control.
Biometric Lock Systems
These systems are electronic locks which rely on biometric input to identify individuals and grant access. They usually use fingerprints or palm prints, or more advanced systems may scan facial features or eyes. Biometric entry systems also allows business owners to remotely time-stamped entry data and program security settings to work specifically with their business needs.
In addition to being convenient for business owners and office managers to use, biometric access systems are extremely accurate. They are flexible and scalable solutions which allow companies to increase security and accountability.
Keyless Mechanical Locks
These keyless locks have been around for more time, but continue to be a great commercial solution. To get into the office, users just have to punch in a security code. The keypad can be installed on the outside of the commercial building, at the security gate or parking lot entrance. It does not require batteries or electricity. When the correct code is keyed in, the high-security mechanical lock opens.
Because of the simplicity of mechanical locks, many businesses still rely on this type keyless lock. They are easy to maintain and make it possible to avoid electrical or technical issues.
What is the Best Solution for Your Business?
Choosing a keyless lock can be a challenge for any company. There are so many options available today. When making this important decision, consider your business' structure, size and activities. Here are some key questions which will help you find the best commercial-grade keyless lock solution.
Structure
What type of doors that need to be secured?
What material are they made of?
Are they interior or exterior entry points?
What is the condition of the existing doors and hardware?
Restricted access areas should be secured with advanced biometric access systems. Keyless mechanical locks may be better suited for exterior doors which will be exposed to the weather. But you will also want to consider the doors and hardware that you currently have for the office. If the hardware on the doors is high-quality and has recently been installed or upgraded, you may want a keyless lock system that can work with the existing hardware.
Size
How many occupants are in the building?
What amount of traffic will that entry point need to accommodate?
How many doors need to be operated with keyless locks?
Will access need to be restricted for some users or certain parts of the building?
For example, high-traffic entryway are best served with electronic locks and access card or key fob systems. These systems verify users quickly and won't block entry by creating lines. Biometric systems, on the other hand, are recommended for buildings or areas of the building which will be accessed by a low number of users.
Activity
How is the building used?
What are the hours of business?
What level of security is appropriate for your company?
When selecting a commercial keyless lock system, think about what happens throughout the day and throughout the year at that building. Consider the type of users who need to access it, not just staff and employees. Users also include outside service providers, cleaning, repairs, technicians and delivery personnel. You should also think about the time of day that entry is permitted and when access needs to be restricted or blocked completely. Above all, consider the amount of security that your company requires.
Ask an Expert – Great Valley Lockshop
Still not sure which type of keyless lock is right for your business? Talk with the professional locksmiths at GV Lock. Call us at 610-644-5334 or request a free quote using our easy online form.