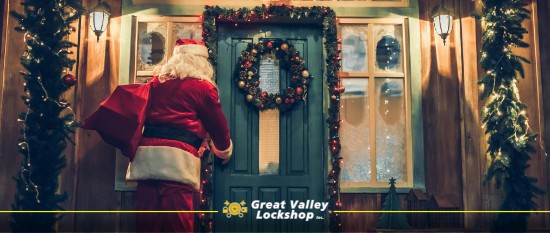 "Why Doesn't Santa Use the Front Door?"
"Dear Locksmith, if Santa Clause is magical, he should have a magical way to unlock and come through the easiest entry point, right? With all those gifts to deliver to so many children around the world—all in just 24 hours–he doesn't have any time to waste. Why doesn't Old Saint Nick just come in the front door?"
It's not every day that we get letters from curious kiddos with wonder in their heart. But the holidays are a special time for everyone and a time to make wishes come true. So, in the giving spirit, we're going to give this fun little question the consideration it deserves!
Top 6 Reasons Why Santa Doesn't Use the Front Door
1. Keys Are Heavy and Lots of Keys Are VERY Heavy
We all know that Santa Clause is a busy guy on Christmas Eve. He has millions of stops to make as he flies around delivering presents to all the good little girls and boys. Santa needs to move quickly, and that means he needs to keep his load as light as possible.
Plus, consider the reindeer! Dasher, Dancer, Prancer, Vixen, Comet, Cupid, Donner, and Blitzen aren't so young anymore. Because Santa's reindeer are magical, they don't age like normal reindeer, according to YesSantaIsReal. Rudolf who was the newest addition to the sleigh-driving team, is 57 years old, which is only about 14 years in reindeer years. But still, the aging reindeer don't need any extra weight to tow.
If Santa used the front door, think of all the keys he'd have to carry. He and his reindeer would need to carry at least one house key to unlock the front door of all those little boys and girls. Though one key may not be very heavy, the weight of those keys really adds up! (Mathematicians are currently working to calculate the weight, but I can assure you that it would be a lot!)
2. Keys Take Up Space in the Sleigh
The same way that the weight of keys adds up, so does their size. One key is pretty small, but millions of keys for millions of door locks would surely fill up the sleigh. Then, there wouldn't be enough room for all the presents, and that would be a big, BIG problem!
3. So Many Stairs to Climb
Have you seen the shape that Santa Clause is in these days? Let's just say that he didn't get a Peloton for Christmas last year like everyone else. Anyway, even if Mr. Clause lost a few pounds, he still wouldn't be able to walk up all the stairs to deliver gifts to all those city kiddos living in skyscrapers. Going door to door in a high-rise building is totally out of the question for his little legs.
4. Getting from the Roof to the Door is Hard – and Painful!
'Twas the night before Christmas, when all through the house not a creature was stirring, not even a mouse. The stockings were hung by the chimney with care, in hopes that St. Nicholas soon would be there…

And then, in a twinkling, I heard on the roof the prancing and pawing of each little hoof. As I drew in my head and was turning around, down the chimney St. Nicholas came with a bound…

He spoke not a word, but went straight to his work, and filled all the stockings, then turned with a jerk. And laying his finger aside of his nose, and giving a nod, up the chimney he rose…"
The author of this Christmas poem, Clement Clarke Moore, accurately describes how Santa lands on roof of the houses and enters down through the chimney. Nowhere was it written that Santa slid down the roof, fell to the ground, and walked to the front door. He certainly doesn't bring a ladder around in order to dismount from the roof. Plus, imagine, if he had to do that at two- and three-story homes, Mrs. Clause would need to take him to the hospital in the morning.
5. Santa Could be Mistaken for a Burglar
Everyone should keep their doors locked at night, even on Christmas Eve. It's a fundamental part of keeping your family secure. If the Jolly Old Elf were to try to bump or pick the locks, someone might get scared and think that he was a thief trying to break in.
6.Too Noisy and Too Risky
To get the job done on Christmas Eve, without running out of time, Santa needs everyone to be nestled all snug in their beds. But, even with a key, Santa Clause would have to fumble around in the dark to unlock the door which would surely wake up the homeowners. With or without a key, if Santa set off the security alarm, that would really ruin the visions of sugar plums dancing in their heads.
The noise could cause the reindeer to get spooked and fly away with the sleigh. Then, when the neighbors hear the alarm, they're likely to call the police and report a burglary. In that case, Santa would risk ruining Christmas forever by getting sent to jail. We can't have that!
Why Santa Claus Prefers the Chimney
So, by now, you're starting to understand why Santa has found chimneys to be the most practical access point.
Chimneys don't have locks.
For house houses that don't have chimneys, he can magic a chimney and make it disappear when the sleigh flies away.
Sliding down the chimney is a lot easier than climbing stairs.
It's more fun!
Old Saint Nick is also pretty Old School; he's a man of tradition, and so he likes to do things the way they have always been done.
Controversy Regarding the Issue
Some people disagree with the chimney strategy, claiming that fireplaces are antiquated and that Cgas fireplaces don't even have chimneys. These alternative informants say that Kris Kringle has a magical master key that can unlock the doors of all true believers who are asleep.
Scientists are working night and day to verify this 'Master Key' hypothesis, but to date, no solid evidence has been found that supports #ChimneyGate.
Make It a Merry One, Friends
You don't have to go to the North Pole to have quality time with your loved ones. Enjoy the opportunities to laugh and smile with those around you.