The Access Control Answer: What You Need to Know About Electric Strikes
On the surface, door locks seem simplistic in nature. But the "simple" door locks that are synonymous with most people are only scratching the surface in terms of how complex locking mechanisms can be and how advanced security technologies have the potential to be. A case-in-point example of a complex locking mechanism is the electric strike, an access control device that's used for doors, namely in commercial and residential facilities.
Specifically, electric strikes are a more advanced type of faceplate than the standard fixed ones. In a nutshell, electric strikes work when electric power is applied to them. While they're similar to a fixed faceplate in that they feature a ramped surface to allow a door to close and latch, the big difference between electric strikes and fixed strikes is that electric strikes are able to pivot out of the way when in the locked position and the door is open. This means that a user can open a door without operating the lock or using a key.
This post will cover much more about electric strikes.
Two Configurations: Fail-Safe and Fail-Secure
Electric strikes generally come in two configurations: fail-safe and fail-secure:
Fail-Safe: Also commonly known as "fail-open," these types of strikes apply electric current to the strike, which thereby causes it to lock. Essentially, a fail-safe electric strike works the same way a magnetic lock does. In the event of a power failure, the only thing one needs to do to open the door is either push it or pull it. These strikes are powered via direct current.
Fail-Secure: Also known as a "non-fail safe" or "fail-locked," fail-secure strikes are unlocked when electric current is applied. Fail-secure strikes are also considered to be the more popular electric strike of the two main options. These units, which are almost always powered via alternating current, stay locked in the event of a power failure, but the lock can be opened mechanically. When fail-secure locks are activated, there's often the sound of a click.
It's also worth noting that many electric strikes feature a buzzing sound that becomes audible to a person outside of the door to let them know that it's open.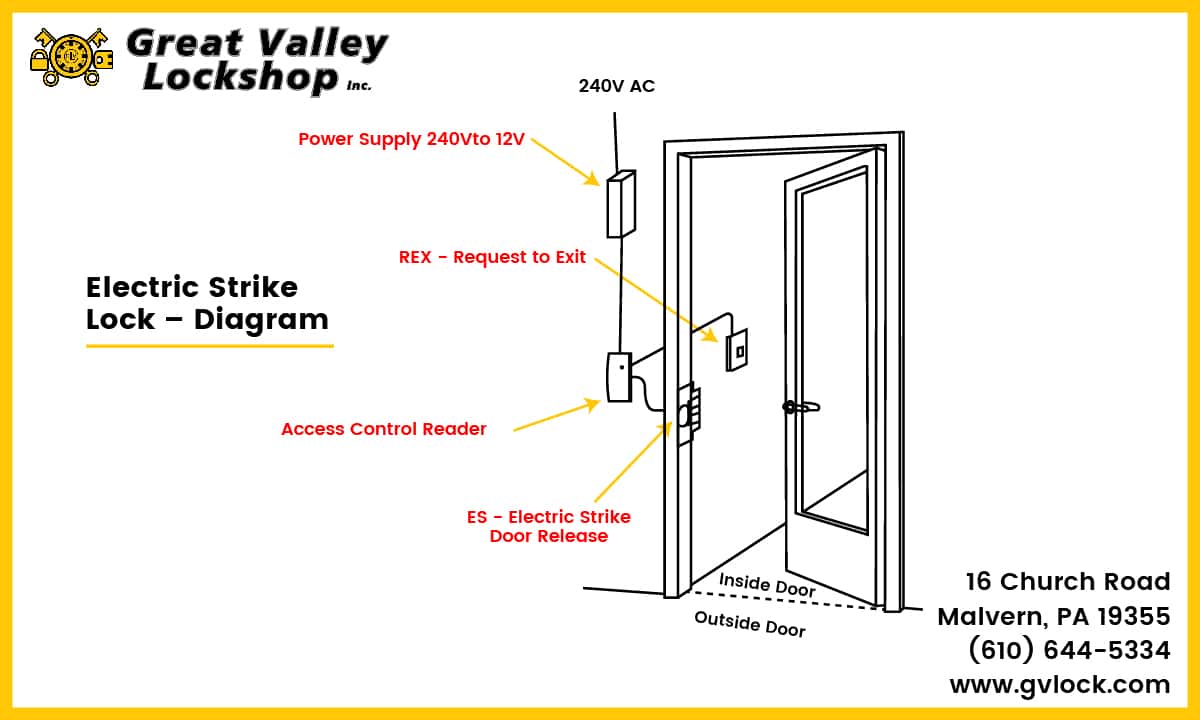 Electric strikes come in a variety of different styles and are available from a variety of manufacturers. It's also important to note that before purchasing an electric strike, there are a bevy of other considerations that must be adhered to, such as:
Jamb type
Type of locking hardware
The length of the latch
Any voltage requirements
Length of the faceplate
Potential violations of fire code (pending install)
Where are Electric Strikes Used?
Based on the information we've already presented here, you can probably determine for yourself that electric strikes are most common in commercial settings or residential facilities like nursing homes or assisted living communities. In terms of commercial settings, they really have a purpose anywhere there's a necessity or desire for access control. So, for instance, some common settings where you might find an electric strike include:
For entry to a warehouse containing sensitive information
At the employee entrance to a business
In stairwells, to provide access to certain floors (In this event, consultation with the fire marshal may be necessary to ensure that fire codes aren't violated.)
At the doors connecting the office entrance to the academic entrance at schools
At any other area in stores or businesses where customer or employee access is limited
Other common settings may include the likes of nursing homes, disciplinary centers and government buildings.
Costs of Electric Strikes
As it is with any type of lock or lock accessory, there's always the issue of cost. So just how much are electric strikes? The cost varies based on the variety that you need and the assembly that it is going to work with, but generally speaking, electric strikes can be purchased anywhere from $20 to $350. As with anything, you get what you pay for – so you shouldn't expect an electric strike that costs $20 to function or last to the level of one that costs upwards of $200.
With the costs in mind, just how do you know which strike, from a price perspective, is right for you? We advise you to analyze how often the strike is going to be used on a daily basis. For instance, if it's only going to be used once or twice a day, you likely don't need a high-quality strike. But if it's used 10 to 20 times per day, we'd advise opting for a more expensive strike. For 45 to 50 uses a day, go up to a little more high-quality strike – and so on.
Another factor to consider when shopping electric strikes is how much abuse and potential theft the setting is subject to. Just as we advised in terms of use, the more potential abuse or vandalism a setting is subject to, the better quality strike you should acquire.
Learn more about Automatic Door Locks and Magnetic Locks.
In a nutshell, electric strikes are a great locking mechanism for any business or facility that wants to up the ante on its access control. For more information about electric strikes, and to have your facility analyzed to see what types of electric strikes are best for your situation, contact Great Valley Lockshop today by calling 610-644-5334 or get a free quote here!