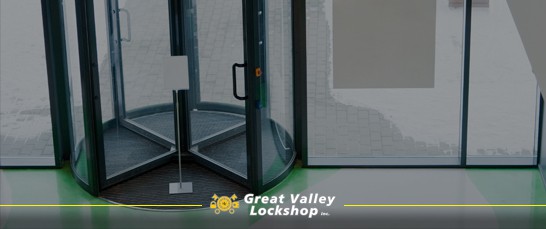 Essential Revolving Door Security Options
Since the late 19th century, institutions and public buildings have relied more and more on revolving doors. Commercial architects appreciate the sleek, stylish look. Business owners and facility managers find value in their energy-efficient qualities. While visitors and occupants like the convenience of revolving doors.
Let's take a closer look at how revolving doors are designed and the main security options available to suit the needs of your business.
Revolving Door Design
Using revolving doors, people can enter and exit high-traffic buildings with ease, without needing to pull a lever or twist a knob. The basic design of this type of door includes from two to four vertical leaves attached overhead with a central shaft. The door leaves then pivot around a vertical axis within a partial cylindrical drum.
The wings of the doors usually rotate in a counterclockwise direction. Revolving doors can operate manually or automatically. Manual styles require users to push the leaves as they move through the door to enter or exit. Automatic doors are set in motion when someone approaches the door from inside or outside the building. Electronic sensors and motorized gear assemblies rotate the leaves without manual pushing and control the speed of rotation.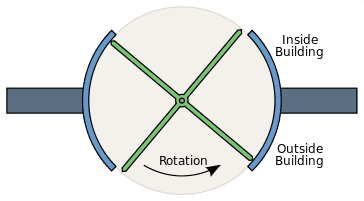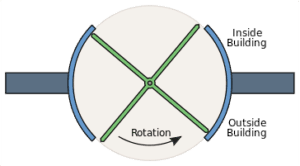 Diagram showing the essential parts of a typical commercial revolving door.
Applications
Applications for revolving doors often include healthcare facilities, universities, hotels, public buildings, retail spaces, financial institutions, residential complexes, and offices. These types of doors are typically installed at the main entrance to facilitate traffic and provide easy access in and out of the building.
Advantages
With an 'always open, always closed' position, rotating doors can provide significant energy savings for commercial spaces with ongoing traffic through the entryway. For many structures, they are the most energy-efficient entrance solutions available. This type of door helps keep heated and air-conditioned air within the interior of the building, while preventing drafts from outside.
Safety Codes
Revolving doors must comply with ANSI/BHMA A156.27-2019 standards for dimensions, clearance, door speed, and safety features. These commercial standards are meant to help protect users from getting injured or trapped. For example, ANSI mandates features such as motion detectors, entry point sensors, toe guard sensors, and contact safety edges. This code also calls for emergency stop mechanisms and "Push to Slow" options.
Revolving doors used as a means of egress in the event of an emergency are subject to International Building Code 1008.1.4.1.1. ANSI requires a swing or slide door to be installed on the same level, next to the revolving door. The IBC and the NFPA state that at least one door must be available within 10 feet of a revolving door in case it malfunctions or gets stuck. Rotating doors cannot be relied upon as fire doors.
Accessibility
ADA codes require that revolving doors and turnstiles not be the only means of entry. For a building to be compliant with accessibility codes, a second point of entry with a handicap-accessible door must be available.
Security Solutions for Revolving Doors
These days, tight security is a top concern for all types of property owners and employers in the public and private sectors. Solutions which enable easy entry and exit, while simultaneously restricting access, are in high demand for good reason. all require secure, cost-effective, flexible lock and hardware options. Here is a brief overview of the various security options for rotating doors.
Sliding Drop Bolt Locks
The most basic lock option is a sliding bolt or shaft lock. The manual version of this type of lock requires a key to move the bolt into place in the strike plate fixed on either the top or bottom of the frame. Electronic shaft locks work similarly except that they are controlled remotely and have a keyed backup. Once locked in place, the door wings cannot rotate or be pushed open.
Electromagnetic Locks
Magnetic locks are solid options for revolving doors. This type of lock uses electronically controlled magnets to hold the door leaves in the locked position. It can withstand up to 1,000 pounds of pressure and be disengaged instantaneously in emergencies. Electromagnetic locks can be controlled remotely and easily integrated into an access control system.
Exterior Doors
When the building is closed, revolving door models with exterior doors can be used to secure the entry point. This allows managers to enclose the drum completely at night or during after hours by putting the doors and lock in place.
Emergency Locks
If there is a security threat or emergency, remote emergency lock mechanisms block the door wings immediately with the push of a button. As mentioned above, emergency lock mechanisms are required by building and safety codes.
Dive deeper into this topic: Knobs, Handles, and Levers for Commercial Use and Commercial Lock Grades.
Commercial Security Services that You Can Trust
Security professionals can help your company find the best options for any type of facility. Contact the team at GV Lock for an expert consultation with an experienced locksmith or free estimate. Call us at 484-324-2986.