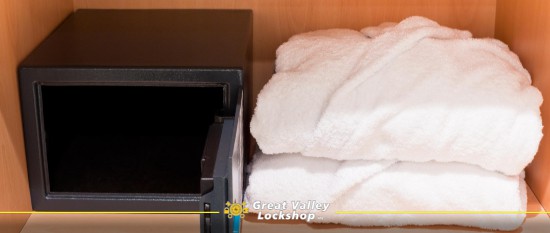 Are Your Valuables Secure in a Hotel Safe? 
The typical safe that you find in a hotel room may not be the most secure place to keep your cash, jewelry, documents, or electronics. But the security vulnerabilities of hotel safes are not related to the construction or quality of steel; they are connected to how the safe is installed and who has access to it. 
Generally, the electronic safes provided meet the standards for fire resistance and burglary resistance, and you can easily check this by looking at the UL label displayed on the safe model. So, why should guests beware when entrusting their valuables to the safe in their hotel room? 
Why Hotel Safes Are Often Unsecure 
After you check-in, you put your things inside and lock it with that four-digit code and head out to enjoy your vacation. But your good time gets ruined when you swipe the keycard to your room and come back to a locked, but empty, safe… 
1. Easy Access
What most hotel guests don't know is that the electronic safes in the building have a master code that gives hospitality staff the ability to open each one. Some models also have a keyed master lock that allows any keyholder to open it up take everything inside. 
According to Mike Moske, a certified lodging security director and private investigator who has 25 years of experience managing hotel and resort security, "60 to 70% of hotel theft is perpetrated by the staff and not someone from outside." He says this is because of easy access; "staff already have access to your room so employees also have access to the safe." 
2. Opened on Command
With most electronic safes provided in hotels, each guest can choose their own security code. But what happens if you forget that code? Or, worse yet, if someone else pretends that they are the owner of the items in the safe and he/she claims to be locked out? 
When you inform the front desk that you need assistance opening the safe in your room, they will likely send a maintenance technician to help. In a matter of seconds, the staffer can open the safe by punching in the master code. If employees do not request to see the guest's identification before opening the safe, this could mean that the contents have just been handed over to the wrong person.  
3. Weak Master Code Practices
Hotel employees don't need to know the individual code that you set when locking your items in the safe; they have a master code as a backup. However, this presents another potential security issue when hotel staff use the master code within sight of guests and others. This same master key code can be used to break into virtually every safe in the hotel facility.  
4. Relying on the Original Override Code
Data security specialists point out another problem. When safes are initially purchased, they come with an override code—usually 0000 or 9999. But it depends on the hotel manager to change the manufacturer's override code and many do not. We also know that these factory settings can be found on the internet and can be used by hackers to organize a heist. 
5. Multiple Modes of Entry
That's not all. Depending on the model of safe used, hotel managers likely have more than one master key system. They may have a traditional keyed entry or magnetic access card that works as a backup to unlock safes. But, anybody with any one of these three things can open any safe in the hotel. 
6. Faulty Installation
What's the point of locking your valuables in a steel safe, if the whole unit can be picked up and stollen? Upon closer inspection, many hotel safes are attached to closets using wood screws or bolts that can be unscrewed. This makes it easy for someone to remove the entire safe from the room. Other hotels may provide safes that are installed into nightstands or smaller pieces of furniture that can simply be removed from the room by a thief. 
How Hotels Should Ensure Safe Safety
Best practices would include:  
Hotel managers must change the factory override of the safes installed in the building to a unique code.

 

Safes should be 

installed

 by a professional, fixed to a solid part of the structure using heavy-duty bolts.

 

Hotel staff requiring to see ID and confirming that it matches the registered guests of that room before opening a locked safe with the master key.

 

When entering the master code into keypad, they must ensure that it's not visible to others.

 

Backup keys and access cards should be kept in a secure location in the hotel and only accessed by authorized staff.

 
Although, guests would be surprised at how many hotels lack these basic security measures. 
Related article: Door Locks for Hotel & Hospitality Security. 
Commercial Safe Locksmith Services
Great Valley Lockshop provides security consultations for hotels and other commercial buildings regarding fire and burglary safes, doors, locks, and emergency hardware.