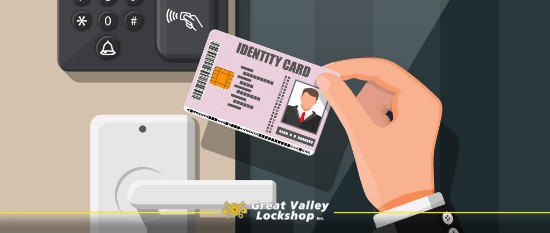 Touch-Free Entry Solutions – Contactless & Secure
One of the key drivers behind the growing popularity of access control systems is the fact that it's a contactless entry solution.
Keyless entry systems have been used in commercial buildings for decades, in the form of automatic doors activated by motion sensors, Bluetooth, biometric readers, proximity cards, and other technologies. Universities, hospitals, stores, research institutes, airports, data centers, and other industries use touchless entry today. Access control and identification systems evolve and embrace technological trends and are flexible enough to accommodate changes in the way visitors enter a building.
Why Contact-Free Entry Is Popular Now
During that pandemic, keyless entry systems that used key cards or key fobs have given employees the ability to enter their facility without having to touch anything. This benefit has played a key role in securing the safety of employees and visitors throughout the pandemic and will continue to be beneficial in the future.
Switching to touchless technology decreases common touchpoints, which helps to prevent COVID-19 from spreading on surfaces. You can use a range of hands-free and touchless technology solutions in your entrances, lobbies, conference rooms, and other areas. It's simple to install hands-free automatic door opening hardware on an existing electrified door to eliminate that added touchpoint and promote a touchless, for a handicap-accessible and ADA-compliant workplace.
Contactless Entry Solutions for Businesses
The following touchless technology solutions can be added or retrofitted for your office or commercial building:
Motion Sensor Activated Doors
This type of door doesn't need a handle to be turned or even to be touched to open it. As someone approaches the door, it will open automatically. This works especially well for high traffic areas, like main entrances.
Automatic doors can be combined with keyless entry readers too. To enter, someone simply needs to enter or scan the proper access credentials. Then, the electromagnetic lock will release and the doors will slide open when activated by the motion detector.
Revolving Doors
With revolving doors, people can easily enter and exit high-traffic buildings. These are a contactless solution because there is no need to pull a lever or twist a knob. Additionally, with continual rotation or motion-detected activation, people can use the door without even pushing on the leaves to initiate their pivot around the central axis. When someone approaches the door from the inside or outside of the building, the door automatically starts rotating. Electronic sensors and motorized gear assemblies control the speed of rotation and rotate the leaves without the need for manual pushing.
Keyless Entry & Touchless Security Gates
It's possible to add touchless capabilities and keyless entry to existing commercial door hardware. A keypad or card-swipe reader can be added just outside building entries to allow employees and visitors access, but for touch-free entry, these are the better choices:
Proximity readers – Users are identified by access cards or fobs with unique credentials that are held near the reader.
Biometric readers – Iris and facial recognition scanning requires not physical contact with the people entering the door or security checkpoint.
Touchless access buttons – Required only a hand-wave in front of the infrared reader to capture and identify hand gestures or multiple fingerprints in an instant.
Behavioral biometric authentication – For access control, these sophisticated readers identify people by their posture and gait as they walk through an entry point and check authentication against saved behavior profile data.
3D touchless readers – These access devices authenticate fingerprints and palmprints using biometric vein scanning technology.
Mobile app authentication – a href="/blog/smartphone-locks-commercial/" title="Smartphone access control">Smartphone access control takes mobile phones, tablets, and wearable electronic devices and allows them to function as a user's credentials to enter offices or other business facilities.
Related article: Which Type of Biometric Scanner is the Most Secure?
Other Contactless Commercial Solutions
For a fully touch-free environment, your building could also switch to the following:
No-Touch Elevator Buttons
Infrared technology is now being implemented to replace high-touch surfaces like light switches and elevator buttons. It measures movement and the vicinity of a person's hand and fingers to these types of surfaces that have historically required pressure to activate. The technology has come a long way to be incredibly sensitive and use algorithms that sense shape and depth.
Contactless Purchasing & Check-In Kiosks
It sounds crazy, but touchscreens can now work without touch. This innovative technology allows customers to order food, for example, from a touchscreen kiosk without needing to make contact with the screen. It uses 3D depth cameras to sense the customer's interaction in relation to the on-screen options. This type of solution is already being implemented in restaurants with digital menus and hotels for self check-in.
Wi-Fi & Voice-Automated Printers
The latest commercial printers allow employees to print, scan, and copy from their desktop or phone, or even through voice commands, without touching the machine.
Automated Bathroom Accessories
With contactless faucets, towel dispensers and hand driers, automatic flush toilets, and soap dispensers people don't have to touch anything, like a doorknob or handle. With a wave of their hand, they can operate everything in a public bathroom these days. As an extra benefit, these types of automated solutions also help busy bathrooms to reduce water and energy consumption.
GV Lock Has the Latest Commercial Security Solutions
Contact Great Valley Lockshop for a free consultation for your commercial space.