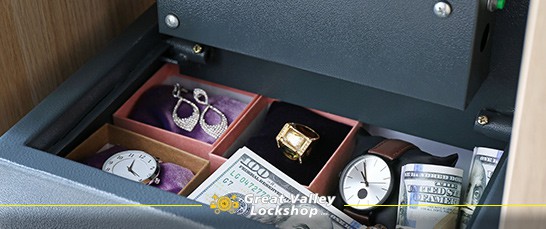 Evaluating Different Types of Safes to Install in Your Home
So, you're in the decision-making process of choosing a safe for your home. The good news is, you already know where you'd like to install your safe, but how do you navigate the final decision on which kind of safe for your home. Ensuring that your family's valuables are safe from flood, fires or burglaries is a great security precaution to take for your home. But which safe is best for your home? There are a variety of safes to choose from, including brands.
Our safe security experts at Great Valley Lock Shop have installed safes for over 40 years. We've decided to put together a guide on how to best evaluate different types of safes that will keep your valuables safe within your own home, in circumstances of fire, flood or burglary.
Learning About the Types of Safes
Before you decide on which safe is best for your home, you should learn more about the variety of safes there are to choose from. You may be needing a larger safe to fit a bigger quantity of valuables or on the other end of a spectrum, smaller belongings.
Types of Safes
There are three standard varieties of safes, all of which have their own uniqueness and style.
Freestanding Safes
What are the benefits to incorporating a freestanding safe into your home? Freestanding safes are built to hold higher content value since the doors are extremely heavy. These kinds of safes have good fire and burglary ratings, as well. Freestanding safes are ideal because of their weight and withstand burglary or break-ins. Freestanding safes, however, are the most expensive kind of safe, and the largest. Additionally, these safes come with a costly installation cost. However, the benefit to these kinds of safes are that they offer a lot of space and can support bigger locks.
Wall Safes
There are a variety of advantages to installing a wall safe into your residence. Wall safes are less noticeable than freestanding safes, they are easier to hide while also being easily accessible. Standard installation for wall safes is in a closet or a private space within a master bedroom or dark area of a home, e.g. garage, basement, storage area of home. Additional weather or disaster benefits include resistance to floods as wall safes are typically elevated within a wall, and more difficult to steal from burglary as wall safes are installed into a wall, making them not easy to move.
Floor Safes
Floor safes are a popular alternative to freestanding and wall safes combined, since they are the most inconspicuous out of all three options. Floor safes, like wall safes, do not take up any extra space in your home. Like that of wall safes, floor safes are hidden in a compartment space in the floor of your home. Floor safes are easily covered by a mat, area rug or carpet which makes floor safes nearly impossible to be detected by burglars.
Familiarize Yourself with Safe Ratings & Why They Matter
Now that you know the kind of safe that you'd like to purchase, you should know that evaluating the ratings and reviews of safes is equally as important. Familiarizing yourself with safe ratings and comprehending why they matter is crucial to the decision-making process in buying a safe.
There are different ways that safes are classified and tested. Three key areas of evaluation include:
Fire Safety Ratings
Burglary Ratings
Safe Test Ratings
These areas are very crucial to take note of when you are purchasing a safe for your home. Learn more about safe ratings and why they matter.
It's also important to consider the best location within your residence to install a safe. Choosing the right location is another important factor in protecting your valuables in case of a burglary or fire. Learn more about the best and worst places to keep it; read: Where to Install a Safe in Your Home.
Safe Installation & Locksmith Services
Keeping your valuables safe from break-ins, fire or water damage is important for your home's safety. Once you're ready to purchase your safe, you're going to need help with the installation. Great Valley Lockshop is here to help with installing any kind of safe into your residence.
Contact Great Valley Lockshop at (610) 644-5334 or request a service quote from one of our safe installation experts today.